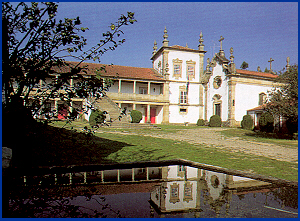 A 24 Kms do mar, entre vinhas e mata, e a 2 Kms de Ponte de Lima, encontra-se a Quinta de Pomarchão. Dentro da mesma situam-se a «Casa do Celeiro», a «Casa do Olival», a «Casa do Espigueiro» e os Apartamentos da «Bica», «Milho», «Toca» e «Mato». A construção é de estilo rústico cuidadosamente decorados, para que psssa gozar de uma estadia, no campo, numa quinta tradicional portuguesa. Situadas a 65 Kms do Porto, a 45 Kms de Vigo (Espanha), as respectivas Casas e Apartamentos estão em locais previlegiados para poder gozar de uams férias sossegadas, dentro duma beleza natural. A zona caracteriza-se pela suavidade do clima e pela riqueza florestal onde encontra pinheiros, castanheiros e árvores de fruto variadas. A poucos kilómetros da Quinta pode visitar o famoso Parque Nacional da Peneda – Gerês. Também pode passear e fazer jardinagem junto das casas e apartamentos bem como conhecer as principais típicas feiras dos distritos mais próximos; a sua gastronomia nortenha e visitar as belas cidades de Viana do Castelo (23 Kms), de Braga (33 Kms), de Barcelos (40 kms), Valença (36 Kms). O litoral é composto por praias fabulosas e não poluídas onde, com segurança, pode tomar os seus banhos de mar. Caso prefira ficar em casa, deliciando-se com a paisagem, tem um tanque antigo de granito, com água corrente.
At 24 Kms from seashore, among pines and a vineyard, inside the Quinta de Porchão, we find the «Casa do Celeiro», «Casa do Olival», «Casa do Espigueiro» and the «Apartamento da Bica», «Apartamento do Milho», «Apartamento da Toca» and «Apartamento do Mato». These country houses are solidly built and specially decorated so that you may enjoy a restful stay in the country, on the estate of Portuguese nobility.
Located at 65 Kms from Oporto, the second city of Portugal, and at 45 Kms from Vigo (Spain), these houses are a unique place to spend your holidays in a peaceful setting, surrounded by nature and near a distinguished Portuguese family that will do everything possible to make your stay a delightful one.
The area boasts of a mild climate. Pine and chestnut forests surround the Quinta and on its land vineyards, olive trees and fruit trees grow.
From any of these houses, you may visit the «Peneda Gerês» National Park, only a few Kms from the Quinta. You may also spend your time strolling through the nearby pine forests, gardening in the lands of the estate and visiting town fairs and markets in the area. You will be greeted with the traditional hospitality and friendliness of the Portuguese people and will enjoy their delicious cuisine. Tours and shopping excursions can be made to Viana (23Kms), Braga (30Kms) and Oporto. You may go to the seashore and your children may swim at the Quinta itself. All these houses are equipped with comfortable rooms and splendid installations for cooking.