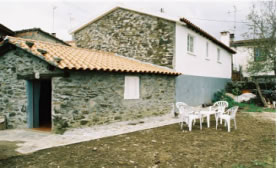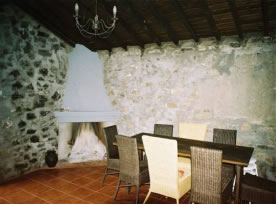 Casa rural transmontana do sec.XVIII, restaurada, mantendo a arquitectura original, situada em Conlelas, aldeia típica em xisto, localizada nas fraldas da serra de Montesinho (Parque Natural de Montesinho) e da Serra de Nogueira, distando cerca de 12 km da cidade de Bragança.
This rural house by the mountains was built in the 18th century. It has kept its original architecture, and is situated in Conlelas, a hamlet built with local stones, which is located at the side of the Montesinho mountains in the Montesinho National Park. The Nogueira Mountains are 12km (approx 7 miles) from the city of Braganca. The nearest border is a 30km (18 miles) away. The largest park is within the Iberian Peninsula. It is called Sanabria, which is of glacial origin, dating back to the last Ice Age. It is a charming place within the national parks of Montesinho and Sanabria where arrangements can be made when and where you can go sailing, walking or cycling.
Maison rural dans les montagnes du XVlll , restaurer, et qui a retenu l'architecture original , situer a Conlelas, petit village tipique qui a ete construit avec la pierre local , elle se situe dans les environs des montagnes du Montesinho (Park National de Montesinho) et des montagnes de Nogueira, qui est a 12 km de la ville de Braganca.