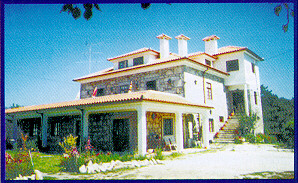 1.5Km

16

38Km

1.5Km

5Km

80Km
Casa de arquitectura tradicional minhota do limiar do séc. XVIII, inserida numa quinta junto ao rio Âncora com findosas margens, belos açudes e azenhas onde se pode pescar trutas. 8 quartos duplos ou twins com BW, PW e CW e com BW exclusivo ou de apoio; 4 apartamentos (T0, T2, T3).
This recently renovated house, dating back to the beginning of the 19th Century is a good example of typical Minho architecture. The house is part of a farming estate close to the river Ancora. The river is famous for its watermills and trout fishing.
8 double rooms and twins with BW, PW and CW; 4 apartments. (T0, T2, T3).
Maison possédant une architecture typique du Minho du début du XVIème siècle. Celle-ci est inserée dans une Quinta, située tout près du fleuve Âncora, avec moulins à eau et possibilité de pêcher la truite.
8 chambres doubles et twins avec BW, PW et CW; 4 appartements. (T0, T2, T3).