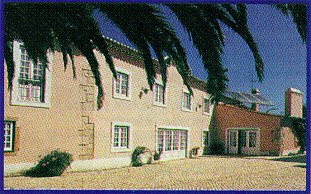 Casa do século XVII, de típica arquitectura do Ribatejo, situada num ambiente rural de grande calma e sossego, perto de locais históricos e de grande interesse turístico. T2 com sala, kitchenette; T1 com sala e kitchenette; 2 quartos duplos, BW, 1 quarto BW.
An 18th Century house of typical Ribatejo architecture located in calm and peaceful countryside. From here there are many places to visit of tourists and historic interest.
T2, lounge, kitchenette; T1, lounge, kitchenette; 2 double rooms BW, 1 single BW.
Maison du XVIIIème siècle, possédant une architecture typique du Ribatejo, située dans un cadre rural calme et paisible, tout prôche de sites historiques et de grand interêt culturel.
T2 salon, kitchenette; T1 salon kitchenette; 2 chambres doubles BW; 1 chambre BW.